---
University of Cambridge Endocrine Society (CUES)
---
Parisut Kimkool, CUES President

2013-2014,
University of
Cambridge
Medical Student

---
Rakhee Vaja, CUES Secretary
2013-2014, University of
Cambridge Medical Student

---
University of Cambridge Endocrine Society (CUES)
University of Cambridge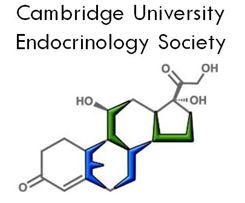 Have you ever thought about setting up a university endocrine society? Recently we spoke to Parisut and Rakhee, two of our Student Ambassadors from the University of Cambridge, to find out about their experience of setting up and running the highly successful University of Cambridge Endocrine Society (CUES). 
Endocrinology is a rapidly developing specialty with an importance and involvement in almost every field: neurology, paediatrics, gynaecology, to name but a few. As medical students however, we were fast discovering it only played a small role in our placements. Many of us found we had little or no exposure to endocrinology during our clinical years. In the hope of increasing its recognition amongst the medical students, we took the decision to set up an endocrinology society within our university, the University of Cambridge.
This experience has been invaluable in bridging the gap between students and specialists
We then had the daunting task of establishing ourselves as a university-recognised society. Although it sounds complicated, the process turned out to be remarkably simple. We started by consulting the regulators of student societies at our university, which in our case were the Proctors. A constitution outlining our principles and objectives had to be created, as well as regulations governing how the society will be run. Happily, our application was accepted and once the administrative tasks such as opening a bank account and securing financial sponsorship were complete, we were ready to get started. We were grateful for the support received throughout the process from Dr Tony Coll, a diabetes consultant at Addenbrooke's hospital.
We ran many events throughout the year, starting off with the CUES launch event, followed by a series of talks by consultants from our teaching hospital covering various topics ranging from scientific breakthroughs to clinical cases. Later in the year we were invited to take part in a debate run by endocrinology registrars. This was an exciting event in which medical students were able to discuss contemporary issues in endocrinology amongst practicing clinicians.
The process of setting up a society and organising events has been a very positive experience and a great opportunity to enhance our communication and organisational skills. Added to that, the environment of academic stimulation we were able to create within the student community, and the space for like-minded students to explore their common interest in endocrinology, has been invaluable for all involved.
Our involvement enabled us to supplement our knowledge of endocrinology and provided a platform to discuss and debate current concepts in the field. These activities increased our contact with endocrinologists and scientists within the hospital and university, as well as enabling us to facilitate the involvement of students in local research ventures.
This experience has been invaluable and we would highly recommend other students to take up the rewarding role of bridging the gap between students and specialists. We leapt in and we hope you will too!