Clinical Career pathways
A career in clinical endocrinology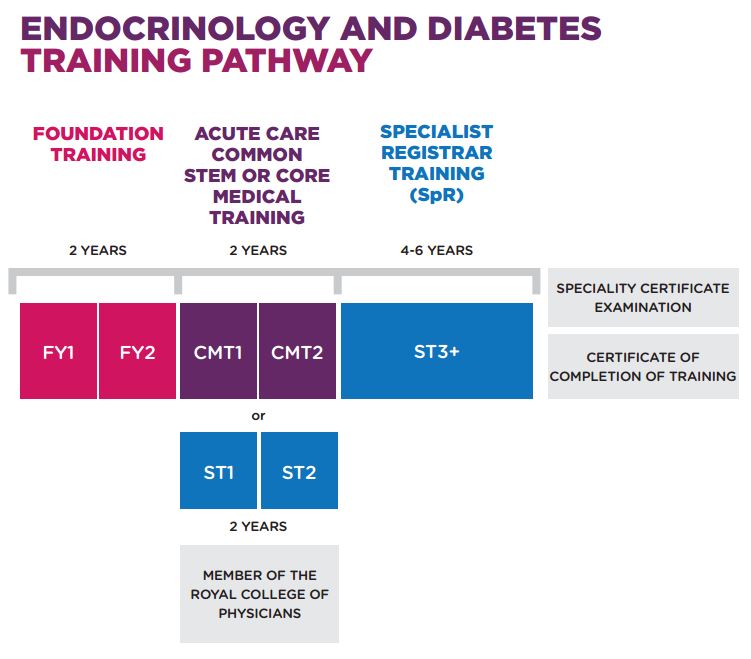 As endocrinologists, we are fascinated with how organ systems and chemical signals communicate, enabling the development and function of the entire human body. Training focuses on understanding the physiological systems that regulate our everyday lives, fixing them when they malfunction, and ultimately helping people live longer and happier lives. 
How to get there...
Entry into Endocrinology and Diabetes specialist training is possible following successful completion of both a foundation programme and a core training programme. Specialist training years 3-7 follow the curriculum
Endocrinology and diabetes mellitus curriculum
---
A career in research
Since its clinical fundamentals are underpinned by complex physiology, endocrinology and diabetes is a unique specialty which offers many varied research opportunities. From basic research into the mechanisms of endocrine and diabetic disease, to developing and testing novel therapeutic agents on patients, there is something for everyone.
---
Where to find out more about a career in endocrinology
Join the Society for Endocrinology. If you're a medical student or undifferentiated trainee a membership will allow you to network with leaders in the specialty, access grants as well as many other opportunities. Find out more.
Contact a consultant. Attend out-patient clinics, enquire about opportunities to get involved with research, audits, and interesting case reports
Explore the training pathway on the Joint Royal Colleges of Physicians' Training Board (JRCPTB) website www.jrcptb.org.uk/
View the endocrine career profiles. Working in endocrinology and diabetes caters for a fascinatingly varied career where you can express your individuality clinically, professionally and personally. Here endocrinologists from all walks of life share their experiences of how they got started, what their jobs involve, the skills that they use and why a career in endocrinology is the place to be. Read about careers profiles.