---
It's time to join the EARS community!
MARTIN REINCKE AND ANTON LUGER | General News
---

The new European Society of Endocrinology (ESE) Advocacy Representation Scheme (EARS) launched in October, following careful consultation with ESE Council of Affiliated Societies (ECAS) representatives. EARS enables ESE's National Affiliated Societies and their members to engage with its policy and advocacy work, so ensuring endocrinologists' voices are heard across Europe.
WHY ARE POLICY AND ADVOCACY SO IMPORTANT?
ESE's mission statement, 'Shaping the Future of Endocrinology', requires it to interact with stakeholders, so that the importance of endocrine health is recognised when healthcare policies and research programme support are developed.
WHY SHOULD YOU JOIN THE EARS COMMUNITY?
The main reason for you to get involved is that endocrinologists are stronger together. ESE is the VOICE for ENDOCRINOLOGY in Brussels. The EARS scheme means ESE will represent a community of over 22,500 endocrine healthcare professionals and researchers across Europe, as well as the patients they care for. This community cannot remain unheard!
WHAT DOES JOINING EARS MEAN?
You will:
receive regular e-newsletter updates on ESE's policy and advocacy work
be consulted on policy and advocacy activities
have your voice heard as part of Europe's endocrinology community
be able to access resources, such as the ESE White Paper (see panel)
be invited to relevant events, e.g. during the European Congress of Endocrinology (ECE) and on topics such as research funding.
Joining is FREE for members of ESE's National Affiliated Societies (represented by ECAS) and – as the Society for Endocrinology has already paid the small fee of €2.50 on your behalf – all you need to do, to receive the benefits above, is to join the EARS Community at https://bit.ly/JoinEARS.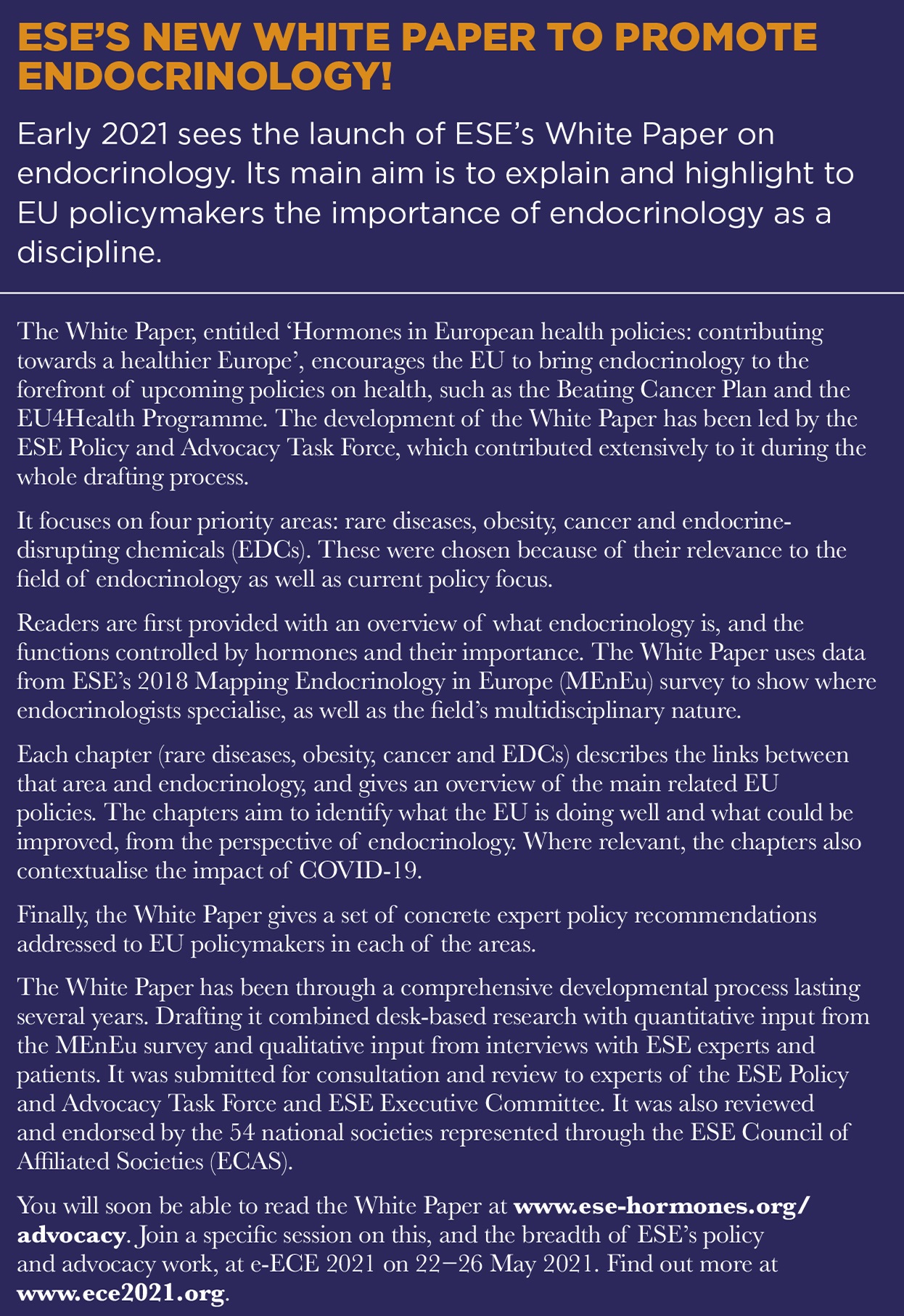 WHAT DOES ESE'S POLICY AND ADVOCACY WORK INCLUDE?
It focuses on three areas of strategic importance to the European and global healthcare agenda:
achieving greater healthcare effectiveness and resilience through health promotion and disease prevention, particularly post-COVID-19 recovery, and its impact regarding endocrine and metabolic diseases
supporting the 'Mission on Cancer', contributing to the 'Beating Cancer Plan' and stimulating research on endocrine origins and consequences
engaging in EU debates on climate change and the environment, particularly endocrine disruptors.
WHAT HAS ESE ACHIEVED SO FAR?
Over the last 12 months, ESE has focused on inserting the hormone health perspective into the Horizon Europe research programme, the Beating Cancer Plan, support to rare diseases within the European Reference Networks and, more recently (driven by the impact of the COVID-19 pandemic), the EU4Health Programme. The Commission's Green Deal and, as part of that, the Chemical Strategy for Sustainability need to include a strong emphasis on endocrine disruptors, which are a major contributor to susceptibility to many non-communicable diseases. To read more, visit www.ese-hormones.org/advocacy.
We look forward to welcoming you into the EARS Community. Join EARS today: sign up at https://bit.ly/JoinEARS.
MARTIN REINCKE
ESE President-Elect             
ANTON LUGER
ECAS Representative

---
---