---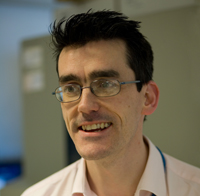 ---
As a bunch, I reckon most of us would consider ourselves to be of a quantitative disposition. We like error bars, n numbers, units, axes and replicates. Like any discipline that seeks to bring clarity to complex situations, this codifying is essential to having meaningful interactions with colleagues.
But what of communication with the non-specialist? I am reminded of an interaction that one of my esteemed colleagues once had when being interviewed for television. Thinking it reasonable to sketch out a simple X–Y graph to illustrate hormone level varying with body mass, the proceedings came to an abrupt halt with a producer bawling that his show 'was not the bl**dy Open University'.
Consider this bumper issue to be your essential navigation guide to the choppy media sea, keeping you out of trouble, with a fighting chance of getting a sane message across. The wonderful people in the Society's press office have assembled the collective wisdom of colleagues' in a series of 'top tips'. Endocrinology's very own media superstar, Giles Yeo, brings tales from the studio floor, while Holly Squire from the excellent website 'The Conversation' tells you how to combine academic rigour with journalistic flair and why we still really do need experts.
We have some superb pieces on how to meaningfully engage with the wider public, and how members of the Society have successfully reached out to younger people to inspire the next generation of endocrinologists. A report on a fascinating collaboration between endocrinologists and film-makers puts a whole new spin on the chemistry of romance.
Also in this issue, folk from across the Society community give you snippets of what to look forward to at this year's Society for Endocrinology BES conference. The final words go to Malcolm Peaker and his piece on 'Medawar's dictum on endocrine evolution', reminding us that whether you are tweeting, googling, writing or speaking, words have always mattered.
Best wishes
Tony Coll
Editor, The Endocrinologist
---
---