---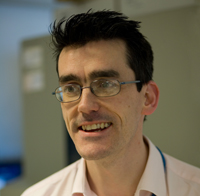 ---
In a technologically advanced era, there is welcome comfort to be had from the xeroxed fanzine that is the election flyer. Distilling complex economic and philosophical thought into natty alliterative tag lines, these are hand-crafted homages to a simpler time that only make sense if you've had a few drinks and are squinting from a distance.
In our house, there is a competition to find the picture or slogan with most pathos. Vote for me because I look sad next to a messy bin. See how well I point at a pothole – I can be trusted on the big issues. I look uncomfortable in a yellow tabard and hard hat, so let me run the economy. More good things, fewer bad things, no additional cost to you … and a free bottle of Sprite. Or maybe that one was a pizza leaflet.
I guess it's just hard to get your message across without some wiseacre having a pop. At a recent editorial meeting, we discussed what purpose the The Endocrinologist should have. No slick mission statement was forthcoming, you'll be relieved to hear, but we did agree that it should be a voice representative of and for the Society, reactive to what is topical, fascinating and concerning. What a delight, then, that this issue showcases talent and activity from around the globe.
Catherine Ball and Mark McCarthy have written excellent pieces on the repercussions of Brexit upon medical research. Our own correspondents, Drs Annamalai and Kandasamy, reveal how endocrinology is practised in India, while colleagues from Imperial College London highlight an astonishing diabetes centre in Abu Dhabi. Clinicians in training can find out what it is like to train in the USA, and also get an insight into why Scandinavians are so good at curating large population datasets.
Finally, a small request. We have space for another member (scientist or clinician) on our Editorial Board. I am especially keen to get representation from outside the South East and to keep those voices varied and distinct. Contact endocrinologist@endocrinology.org if you are interested in joining the team. Enjoy the summer, wherever you are going.
Best wishes
Tony Coll
Editor, The Endocrinologist
---
---