---
Androgen receptor in fibroblasts influences cancer cell 'stemness'
---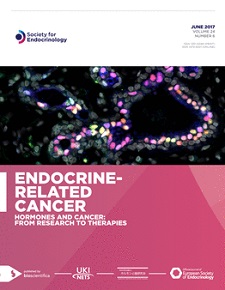 It is well established that the proliferation and survival of prostate cancer cells are dependent on androgen receptor (AR)-mediated pathway activation. Subpopulations of prostate cancer cells have recently been identified with stem-cell like properties, and it has been suggested that these may be the origin of treatment-resistant prostate cancer.
Cancer-associated fibroblasts (CAFs) are the predominant cell type in stromal tissue derived from prostate cancer. CAFs express ARs, suggesting a role for this cell type in prostate cancer development and disease progression.
This study by Liao et al. utilised a mixed species co-culture system of mousederived CAFs and human prostate cancer cell lines to dissect the functional role of CAFs in prostate cancer cell line growth and cell 'stemness'. The authors show that suppression of CAF AR promotes the 'stemness' of prostate cancer cell lines via cytokine production, providing thought-provoking questions about therapeutic targeting strategies for patients with prostate cancer.
Read the full article in Endocrine-Related Cancer 24 157–170
---
---