---
A role for TET2 in parathyroid carcinoma
---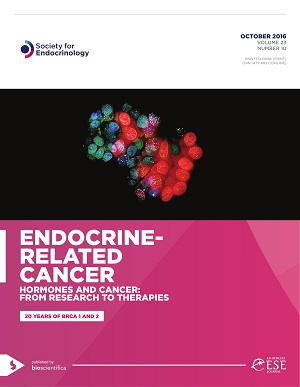 Parathyroid carcinoma (PC) is a slow-growing and rare parathyroid disease. Recent studies have suggested a role for epigenetic modulation (e.g. DNA methylation and 5-hydroxymethylation) in PCs. Decreased levels of 5-hydroxymethylcytosine (5hmC) have been shown to be associated with downregulation of the ten-eleven translocation (TET) family of proteins in a wide variety of cancers. TET proteins oxidise 5-methylcytosine to 5hmC.
In this study, Barazeghi et al. presented data which suggested deregulated expression of TET2 by promoter hypermethylation in PC. PCs from patients showed very low TET2 protein abundance. Additionally, in vitro experiments in parathyroid cells showed a growth suppressive role for TET2, suggesting an important role for TET2 in parathyroid tumorigenesis. Interestingly, TET2 knockdown was found to interfere with the regulation of cell migration in vitro, resulting in increased migration.
The authors also determined TET2 CpG island methylation by quantitative bisulfite pyrosequencing analysis and found an increased CpG methylation level in PCs compared with normal parathyroid tissues. They suggested, however, that other inactivating mechanisms, in addition to DNA methylation, must be involved, since one of the PC samples showed obvious low methylation levels throughout the region.
Read the full article in Endocrine-Related Cancer 24 329–338
---
---