---
Improving outcomes in thyroid eye disease
Peter Taylor, Anna Mitchell, Janis Hickey, John Wass and Colin Dayan | Opinion
---
Thyroid eye disease (TED) is a profoundly distressing, disfiguring and sometimes sight-threatening complication of Graves' disease. It affects over 50,000 people in the UK. Strong evidence indicates that the impact of the disease can be reduced by preventive measures, as well as early specialist intervention.1
The Amsterdam Declaration, an international declaration signed in 2009, called for increased use of preventive measures, with halving of the time from presentation to diagnosis and referral to a specialist centre. However, recent data collected by the UK TED Amsterdam Declaration Implementation Group (TEAMeD) and others indicate a >30-fold variation in the provision of specialist surgery for TED across the UK, and delays of 27 months or more before patients are seen by a specialist service.2–4
With a window of active disease of 12–24 months, the opportunity for early intervention is frequently lost. Furthermore, recently published data suggest that combination immunotherapy in the active phase of the disease can lead to improved outcomes.5,6
THE TEAMeD-5 PROGRAMME

At least 80% of cases of TED occur in patients who already have a diagnosis of Graves' disease and have been referred to specialist endocrine services. The TEAMeD-5 Programme (www.btf-thyroid.org/projects/teamed/332-teamed-5), launched at the Society for Endocrinology BES conference 2017 (see The Endocrinologist 125 6–7), aims to raise awareness amongst endocrinologists and patients with Graves' disease of the importance of prevention, early detection and prompt referral to ophthalmological services with particular expertise in TED.
The elements of the TEAMeD-5 Programme are shown in Box 1. TEAMeD has developed, tested and made nationally available supporting material to implement this programme, including a referral pathway, TED early warning cards, bespoke smoking cessation advice and a screening tool, as well as clinic posters, advice on mild TED and other materials.7–9 TEAMeD is working closely with the British OculoPlastic Surgery Society (BOPSS) to define an appropriate multidisciplinary specialist ophthalmology service for TED and to ensure that high quality provision is available across the UK.
STRUCTURED IMPLEMENTATION OF TEAMeD-5

A proposal has been agreed with the Society for Endocrinology's Clinical Committee, the UK Endocrinology Clinical Reference Group, the British Thyroid Foundation (BTF) and the TED Charitable Trust (TEDct), which aims to provide a more formal structure for planning, auditing and implementing the TEAMeD-5 Programme. It draws from experience of successful programmes in other endocrine conditions (e.g. thyroid cancer, neuroendocrine tumours, pituitary apoplexy), where a co-ordinated approach to service provision has led to improved outcomes. The key aspects of the implementation programme are shown in Box 2.
REGIONAL IMPLEMENTATION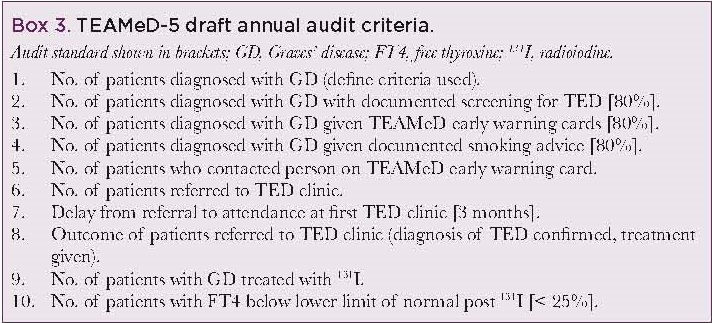 It is proposed that the TEAMeD-5 Programme be implemented by NHS Deaneries/Local Education Training Boards (LETBs),as they form a convenient geographical basis for postgraduate training. From April 2018, there are three Deaneries (Scotland, Wales and Northern Ireland) and four LETBS across the UK. Each LETB has subregions corresponding to the previous English Deaneries. See www.bma.org.uk/advice/career/applying-for-training/find-your-deanery for regional centres. Selection of the regional leads is now well advanced. An initial meeting is planned for later in 2019, with an associated programme of specialist training.
Implementation will be followed by an audit cycle with agreed criteria (see Box 3).
The BTF and TEDct have agreed to jointly support TEAMeD-5 implementation both financially and by means of two part-time staff, Janis Hickey and Lorna Pankethman, who will provide administrative and coordinating support.
Peter Taylor, Anna Mitchell, Janis Hickey, John Wass and Colin Dayan on behalf of TEAMeD
See www.btf-thyroid.org/TEAMeD-5 for all TEAMeD members
REFERENCES
Bartalena L et al. 2016 European Thyroid Journal 5 9–26.
Estcourt S et al. 2009 European Journal of Endocrinology 161 483–487.
Perros P et al. 2012 Eye 26 434–437.
Mellington FE et al. 2017 Orbit 36 159–169.
Kahaly GJ et al. 2018 Lancet Diabetes & Endocrinology 6 287–298.
Rajendram R et al. 2018 Lancet Diabetes & Endocrinology 6 299–309.
Perros P et al. 2015 Clinical Medicine 15 173–178.
Mitchell AL et al. 2015 Journal of Clinical Endocrinology & Metabolism 100 E458–E462.
Mitchell AL et al. 2017 Clinical Endocrinology 87 853–859.
---
---