---
Expand your professional community: connect with your endocrine networks
---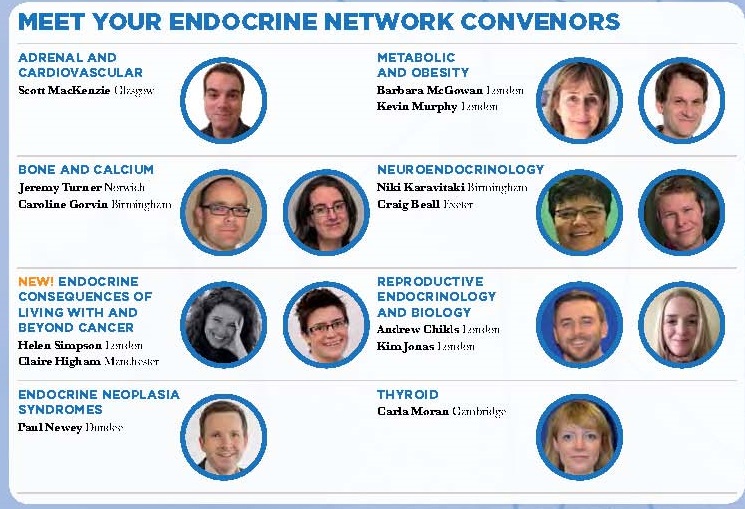 The Society's Endocrine Networks are designed to enable basic and clinical researchers, clinical endocrinologists and endocrine nurses to share knowledge and best practice, and to work together to advance their specialist fields.
Find out more at www.endocrinology.org/membership/endocrine-networks.
INTRODUCING OUR NEW ENDOCRINE NETWORK: ENDOCRINE CONSEQUENCES OF LIVING WITH AND BEYOND CANCER
Endocrine Network convenors Helen Simpson and Claire Higham look forward to hearing from anyone with an interest in research and clinical care associated with endocrine-related effects of cancer. You can contact them on SfE Connect.
Key topics of the Network:
Endocrine and metabolic consequences of cancer and cancer therapies

Electrolyte disturbances such as hyponatraemia and hypo- and hypercalcaemia

Immunotherapy toxicities

Endocrine consequences of proton beam therapy

Bone health

Progress towards recommending interventions and surveillance strategies
JOINING OUR ENDOCRINE NETWORKS IS EASY
Log into the Members' Area at www.endocrinology.org/members
Select 'Endocrine Networks'
Tick the all the Networks you'd like to join!
JOIN SfE CONNECT TODAY!
Keeping informed and up-to-date with your Endocrine Networks is now even easier. Using the Society's new online community tool, SfE Connect, you can start new conversations to help grow your Network by sharing knowledge and best practice and working together to find solutions to challenges within your field. To join, simply visit http://sfeconnect.onsocialengine.com/, select 'Request invite' and enter your name and email address.

SfE CONNECT can help you:
Inform other members about what's new in your field

Get advice or expertise from Network members

Catalyse new collaborations within the Network and beyond

Promote new posts or meetings of interest to Network members

Arrange offline meetings with members for more in-depth discussions

Discuss any issues relevant to your work and the wider endocrine community

Share knowledge and best practice
Join SfE CONNECT to access exclusive Society for Endocrinology BES conference 2019 news and views, especially for SfE Connect members!
HELP SHAPE YOUR ENDOCRINE NETWORK
Want to get more involved with your Network? You can apply to be a convenor. Each Network has a clinical and a basic scientist focused convenor, for a term of 4 years. Society members can apply themselves or nominate others. Visit www.endocrinology.org/membership/endocrine-networks to download a nomination form.
WHAT COULD YOU DO WITH AN ENDOCRINE NETWORK GRANT?
Grants of up to £5000 are available to support any Network activities, including:
organising an event

funding collaborative research initiatives

employing staff to administer clinical data collection

supporting any relevant Network activity you can think of!
To find out how to apply, contact grants@endocrinology.org with your proposal.
---
---