---
Anne White: International Women's Day interview
Louise Hunter | Special Features
---
Anne White is Professor of Endocrine Sciences at the University of Manchester. She leads a research group investigating the interaction between stress hormones and metabolic disease. She is especially well known for the development of assays for measuring adrenocorticotrophin (ACTH) and its precursor pro-opiomelanocortin (POMC). Anne has also held numerous leadership roles, particularly in the field of graduate education.
We're grateful that she gave up some of her time to speak candidly to The Endocrinologist about her career as a woman in endocrinology.
THANK YOU FOR AGREEING TO BE INTERVIEWED! CAN WE START BY ASKING YOUR TOP ADVICE FOR AN EARLY CAREER RESEARCHER, BASED ON YOUR OWN EXPERIENCES?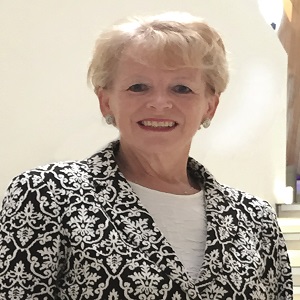 I guess it would be to think very carefully about the research area you are working in. As an early career researcher, following positive results leads you down a certain road which becomes harder and harder to change. You have to be sure it's a route you want to take, and you should consider how receptive you might be to changing course. Otherwise, you may make it hard for yourself when writing grant applications and when trying to take an independent path from your supervisor.
The early stages of my career took me down a technological route, making monoclonal antibodies (MAbs) to small molecules when the technology was new. This turned out to be really challenging, particularly when it came to making MAbs to peptide hormones, because you needed very high affinity and specificity to get MAbs that could be used in diagnostic assays. I made 45 MAbs to ACTH in order to get the characteristics we needed!
The career structure for scientists pursuing technologies was not (and still is not) well established, particularly when I was working as a non-clinical scientist in the clinical setting. I saw clinical endocrinologists forging ahead in their careers, off the back of novel assays that I had introduced. The first author was usually the clinical scientist who collected the patient data, but the novelty came from the assays we were developing.
I decided that the only way forward was take the technologies I had developed and use them to answer scientific questions of my own, using cell culture models to explore ectopic ACTH production by small cell lung cancer cells. Through efforts to get some teaching experience under my belt (by split-site working at the same time as having my first baby!), I was eventually able to secure a lectureship post.
WHAT PERSONAL QUALITIES HAVE INFLUENCED YOUR CAREER PATH?
 I wouldn't say that I have a fantastic memory, but I am incredibly well organised. I think this has contributed greatly to my career, simply because it enables me to get things done. I've seen brilliant minds struggle to do good science because they haven't been organised. I also work well as a team player and have had great collaborators, which has certainly contributed to research successes.
I've had quite a few setbacks, which have made me tougher. Without going into details, circumstances in my post-doc period meant that a colleague and I ended up, with little supervision, more or less running the research in the department. That undoubtedly made me stronger.
It takes quite a lot to get me rattled these days, although if someone attacked my research group that would get to me. I am extremely protective of them! I also have very strong values about the quality of experiments and the reasons we work on a particular research area. I can be quite determined in addressing issues such as these.
HOW CAN WOMEN BE SUCCESSFUL, RESPECTED LEADERS?
Women shouldn't have to adopt a macho attitude to be respected, or perceived as strong characters.
Leadership is something that I have learned to do better. Early on, I found it hard to be a leader. It would really annoy me that people hadn't taken me seriously or ignored my contribution. If I'm honest, my first approach is to be very self effacing, which can mislead people. I want to be friendly, so I am sometimes not assertive enough. Having had several leadership roles and benefited from a number of management courses, I am now able to tell senior colleagues if they need to improve on something. I'm not sure where the bravery comes from!
Women shouldn't have to adopt a macho attitude to be respected, or perceived as strong characters. In general, we shouldn't encourage this sort of behaviour. We should pull people up for bullying and negative attitudes a lot more than we do, and we certainly shouldn't let them get away with it, just because they have become successful academics. We all struggle with insecurity at times, and it is not helped by competitive behaviour. I think science loses out when it is too competitive, as there are researchers with great ideas who just need more support and encouragement.
Nowadays, I try hard to take a rounded approach to leadership and have a value system where everyone's important. I've had some great experiences in leadership roles; when I was Head of Division, I found the strategic planning really rewarding. If you can help academics find roles that they are really good at, and you can put teams together that work for the good of the whole department, then it makes it more successful. I understand financial planning and how to evaluate options. I was Treasurer of the Society for Endocrinology for 5 years, through some very challenging times!
DO WOMEN NEED TO SUPPORT EACH OTHER BETTER?
Absolutely.
WHAT DO YOU THINK ABOUT INITIATIVES TO IMPROVE GENDER EQUALITY IN SCIENCE? FOR EXAMPLE, MOVES TO INCREASE REPRESENTATION OF WOMEN AT CONFERENCES?
We also need to encourage women to speak up and recognise the situations in which gender may influence behaviour.
I'm not sure. Do we or don't we need help? Certainly, we need to bring gender equality to the forefront of people's minds and raise awareness. We also need to encourage women to speak up and recognise the situations in which gender may influence behaviour. For example, it's been shown recently that female scientists are less likely to blatantly state the importance of their science; this can have implications for publication success and therefore promotion prospects.
Having said that, there are some simple things which really annoy me! Why are there so many deadlines and meetings in December? Women inevitably have greater carer responsibilities, and this can be one of the busiest times of year. Why do conferences start on a Sunday? This necessitates childcare arrangements, and women often end up missing the first parts of meetings. How do we change these things? Small adjustments could make a very big difference.
Interviewed by Louise Hunter, NIHR Clinical Lecturer, Faculty of Biology, Medicine and Health, University of Manchester
If you would like to learn more about Anne's research, visit www.research.manchester.ac.uk/portal/anne.white.html.
---
---