---
COLLABORATION WITH INDUSTRY: SHAPING ENDOCRINE CARE
PAUL CARROLL AND JEREMY TURNER | Society News
---
The field of endocrinology and the Society for Endocrinology have a long history of collaboration with commercial partners and the pharmaceutical industry. Sponsorship and support from industry are essential for the successful delivery of Society activities and events, facilitating the work done by the Society on behalf of its members.
Endocrinology has a rich history of effective working with the pharmaceutical industry on drug discovery, conduct of clinical trials and making new treatments available in a responsible and cost-effective manner. As members will know, the regulation and nature of the pharmaceutical industry have changed over the last decade. The Society recognises the need for a continuing, but also refreshed, relationship with pharma and non-traditional industry partners (e.g. the med tech and devices sector). This relationship must be mutually beneficial, appropriate, in keeping with the ethos and code of practice of the Society and represent the views and wishes of our members.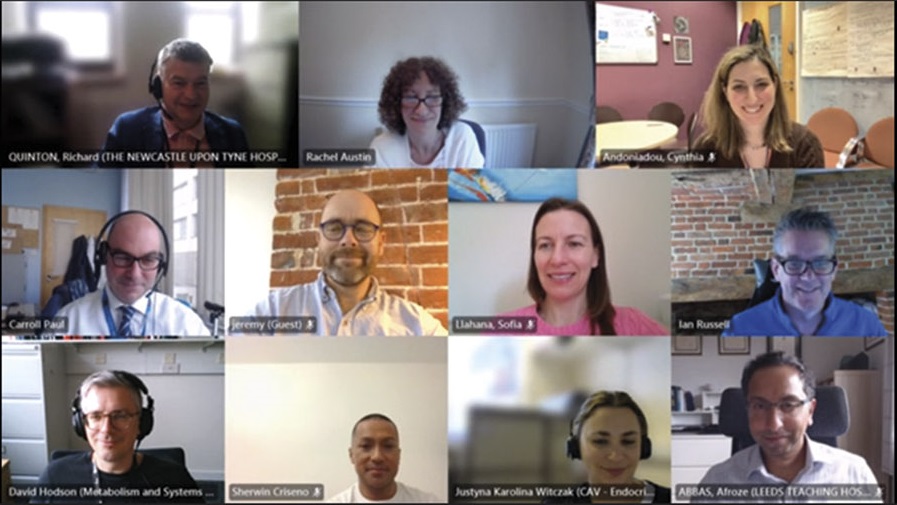 CORPORATE LIAISON: FOSTERING RELATIONSHIPS
The former Corporate Liaison Board was 'upgraded' to the more comprehensive and empowered Corporate Liaison Committee (CLC) in 2018. The CLC includes broad representation of Society members from clinical and scientific backgrounds and has excellent Society support. It operates in close collaboration with the other Society committees, Council and senior staff. Meeting regularly, the principal remit of the CLC is to foster and oversee the relationship of the Society with industry partners. Rachel Austin and Sophie Tovey from the Society Engagement Team provide excellent support and direct liaison with our industry colleagues.
The CLC has modernised its Policies for Working with Industry, to ensure appropriateness of interaction and liaison. It has supported a change in emphasis for interaction with industry, moving from a purely 'transactional' relationship to one where we create more bespoke models of working with key partners. This tailored model is in place for our work with a number of companies, with excellent examples of Society members contributing to product design, clinical trials, licensing applications, industry staff training and access to key opinions. There is also the opportunity for industry partners to support Society staff, sharing corporate knowledge and resourcing.
WELCOMING INDUSTRY PARTNERS AT SFE BES
In addition to traditional large companies with established portfolios in the endocrine area, we are seeing the emergence of smaller and newer companies, often tailored to rare diseases in endocrinology. Newer, non-therapy-based companies, involved in diagnostics, imaging, laboratory materials and 'med tech' are emerging. This year, seven new industry partners attended and exhibited at SfE BES 2021. The CLC has encouraged medical and scientific staff from industry to join the Society and attend and contribute to the SfE BES conference. We invite you to please make all our colleagues from industry feel welcome and valued at SfE BES conferences and other Society meetings.
WORKING AT THE HEART OF INNOVATION
Working closely with industry remains at the heart of discovery, innovation, and development of new diagnostics and treatments for endocrine conditions. Establishment of the CLC ensures that the Society has a clear mechanism for overseeing and developing our relationship with industry partners. The CLC and the entire Society are very grateful to all who continue to contribute to this forward-looking and modern approach to industry collaboration, at a time when agility and commitment are needed.
The CLC is always looking for new members to join and contribute to the Committee. We need broad representation, reflecting the membership of the Society. Please consider applying; it is a real opportunity to contribute and shape endocrine care for the future.
Finally, we are also delighted to announce that Jeremy Turner has accepted the post of Chair of the CLC, commencing January 2022. We welcome Jeremy to this new role, recognising that he will have success, make friends and have fun along the way!
PAUL CARROLL AND JEREMY TURNER
Retiring and Incoming Chairs, Clinical Liaison Committee
Find out more about the Corporate Liaison Committee
---
---