---
The C words: Conferences in COVID-19
RISHEKA WALLS, NIAMH MARTIN AND KARIM MEERAN | Features
---

Conferences see thousands of like-minded people coming together to learn and network, and generate over £19 billion per year for the UK economy1. However, portrayed as an early hub for superspreading,2 academic gatherings experienced a wave of change due to the coronavirus (COVID-19) pandemic, with conferences and social distancing becoming mutually exclusive events.
Endocrinologists are integral to general medicine and occupy much of the COVID-19 frontline, with consultants returning to night shifts and trainees manning a 7-day NHS. As our working lives changed, learning also saw a 'new normal'. COVID-19 dominated journals and filled teaching slots, whilst specialty training vaporised. However, excess deaths outside COVID-19 were becoming a worrying reality,3 serving as a reminder that training must go on, albeit differently.
At Imperial College London, we wanted to continue with our 12th Annual Endocrine Masterclass 2020. However, we recognised that an overhaul in our approach to large face-to-face teaching forums was needed.
CONVENIENCE IS KEY
As reflected by the popularity of Uber and Amazon, convenience influences decisions. Anti-social shifts, high sickness rates and clinicians working from home meant that convenience was key in securing an interested audience.
We set up fortnightly bite-sized themed Masterclass sessions lasting 2 hours and divided into four subsessions. Each opened with a general overview, followed by case presentations from across the UK, and ended with expert discussions. These sessions were delivered via a Zoom meeting, easily accessible through any device with one click on a web link. Through regular, short sessions, we ensured numerous opportunities to attend with small fortnightly time commitments. Zoom also has the option to record sessions, so they could be watched 'on demand' later (www.imperialendo.com/metmed).

MAKE IT ENGAGING
Effectively delivering an online conference with audience participation is an evolving process. All the presenters built in interactive questions, put to the audience via Mentimeter. The audience could test their own knowledge and views against that of fellow endocrinologists through summary graphs (Figure 1). The presenter was also able to 'read the room', gauge the audience's learning needs and adapt subsequent discussions.

BE DYNAMIC AND ADAPTABLE
Feedback is vital for improvement, and yet conference feedback can only be actioned 12 months post-event. Through our short but regular sessions, feedback from one session was actioned for the following fortnightly session. For instance, the first session saw a demand for expert teaching on osteoporosis. We therefore adapted the following session by opening with 30 minutes of osteoporosis teaching from a metabolic bone consultant, and 'Alex's osteoblast' has become a regular feature. Using the chat box function on Zoom, we were able to take both real time questions during the presentation and questions at the end.
INCLUSION AND EMPOWERMENT
Our Zoom platform saw the majority of questions asked by trainees, which contrasts with 'live' large conferences. Each talk generated seven to ten questions from the audience, with 70% from trainees. The freedom to type questions, combined with an appreciation of the level of knowledge amongst the audience through Mentimeter, empowers those less vocal to speak up.
WHAT'S IN IT FOR ME?
Learning is great, but learning with Continuing Professional Development (CPD) is even better. We proactively approached the Royal College of Physicians who approved each session for two CPD points. Points were obtained by photographing a QR code displayed intermittently throughout the session. This linked directly to a feedback page and resulted in 90% of candidates completing feedback on the day. As conference organisers, we stand to gain too, as such instantaneous feedback helps us plan and adapt the next fortnightly session.
Physical conferences have provided opportunities to visit new places, collaborate over coffee and mingle with friends and experts.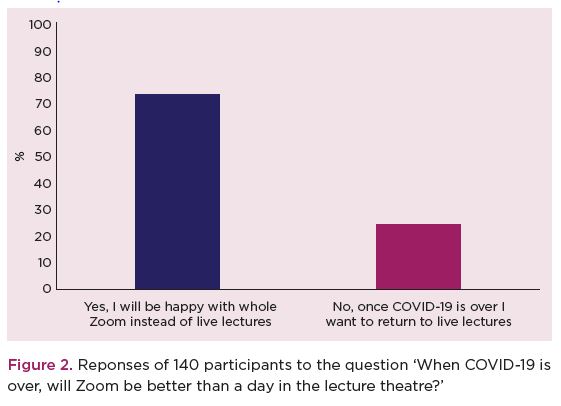 Yet, we have all missed conferences through rota clashes, personal commitments or a tight budget. Once missed, the next opportunity is often 12 months away. Through our Zoom bite-sized Masterclass, we were able to deliver a regular, accessible and inclusive conference with audience participation and empowerment of those less vocal, with 75% wanting our sessions to continue beyond lockdown (Figure 2).
Following the popularity of our sessions, they have continued fortnightly, and we have run an insulin pump course and further metabolic medicine sessions. Our annual Imperial Pituitary Masterclass in September was also will also be delivered on Zoom. Such virtual interfaces cannot replace physical conferences but, by embracing both physical and virtual conferencing in the future, maybe these particular 'C words' aren't all bad and, for learning, perhaps we can have our 'C'ake and eat it.
Risheka Walls, Niamh Martin and Karim Meeran, Specialist Registrar in Endocrinology, Diabetes and General Medicine and Honorary Clinical Research Fellow, Consultant in Endocrinology and Diabetes, and Professor of Endocrinology, Imperial College NHS Healthcare Trust and Imperial College London
REFERENCES
Siddique H 2020, The Guardian 
RCP Ratnasabapathy R 2020, BMJ 369 m1496
---
---