---
Nikki Kieffer: award-winning nurse
Nikki Kieffer | Nurses' News
---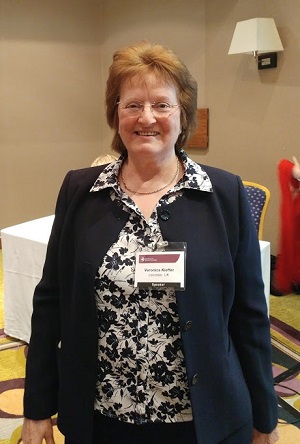 The Society's Endocrine Nurse Award recognises individuals who have demonstrated innovative and successful nurse-led initiatives in endocrinology that have advanced best practice in research, education or patient care. The winner of the inaugural award in 2017 was Veronica (Nikki) Kieffer from Leicester Royal Infirmary. Here, Nikki tells us about her achievements in the role, and in particular in leading the project to produce the Society's Competency Framework for Adult Endocrine Nursing.
IDENTIFYING A NEED
I was appointed as endocrine specialist nurse in Leicester in 2001, with a remit to develop an endocrine nursing service. So what did endocrine nurses do? Despite extensive searches online, I could find no guidelines or protocols to answer this question. Attendance at conferences and national nurse meetings showed that the answer was almost impossible to find. All endocrine nurses had differing job descriptions that varied between being ward-based nurses, solely undertaking dynamic tests, through to managing case loads and running nurse-led clinics.
There was no set training and most nurses seemed to have little or no background in endocrinology and had learnt in post. There was no established framework and nothing against which to measure progress or success.
Despite the lack of guidelines, over the years I developed various services including a nurse-led investigation and treatment unit, so that all dynamic testing could be done 'in house' in a timely manner. Growth hormone replacement is now nurse-led and we have a Nebido initiation service and a nurse-led assessment clinic for adrenal incidentalomas. I have also managed a virtual clinic for patients with thyrotoxicosis which has seen the number of patients managed in this way rise from 400 in 2001 to 2,500 today. In addition, I was instrumental in setting up an antenatal thyroid clinic.
Ongoing discussion with colleagues nationwide showed that, in the absence of guidelines, the standards for management of these patients varied from hospital to hospital.
FILLING THE VOID
I had a long-held desire to promote adult endocrine nursing through the development of national guidelines. My aspirations were also that we should reach out to other nursing colleagues: both our near neighbours in Europe and also worldwide.
The idea of developing nurse competencies for adult endocrine nurses (our paediatric colleagues had already developed paediatric competencies) was tabled as an agenda item at a Society for Endocrinology Nurse Committee meeting and was approved. A sub-committee was established and a call for volunteers to join this group was sent to all the Society's Nurse Members. The Royal College of Nursing declined our request for support to develop the document, but the Society for Endocrinology agreed to take it on.
A working party of eight senior endocrine nurses, under my leadership, began work on the document in 2011. Through a series of 'face to face' meetings and emails, competencies were developed for the most common endocrine problems dealt with by nurses. These covered the knowledge and skills needed by nurses to work at competent (new to endocrinology), proficient and expert level. The process took 2 years.
THE FRUITS OF OUR LABOURS
The first edition of the Competency Framework for Adult Endocrine Nursing was launched in March 2013 at the Society for Endocrinology BES conference. A second edition with added competencies was subsequently published in Endocrine Connections in 2015.1
'Nikki is one of the most active and innovative endocrine nurses that the Society has had as a member, is an excellent colleague, and is thoroughly deserving of this award' Miles Levy, Consultant Endocrinologist, Leicester Royal Infirmary
The document provides a model to deliver consistently high standards of nursing care, ensuring that endocrine nurses are working to a national standard and can easily identify any shortfalls in their knowledge and service provision. Patients benefit from having access to specialist nurses with an extensive and monitored knowledge base and nursing skills specific to their condition.
I was asked to present the new document to nurses at the European Congress of Endocrinology in 2013. It was greeted enthusiastically and many European nurses expressed an interest in adopting it for use in their own practice. It has now been translated into several European languages.
In 2014, I co-presented on the Framework's international implications for the nurse meeting at the Endocrine Society conference in Chicago, IL, USA. The document's enthusiastic reception has led to its adoption by nurses in North America and Australasia. The ensuing discussion considered how we could reach out to nurses involved in endocrinology worldwide. As a result, the Federation of International Nurses in Endocrinology (F.I.N.E) has been established, to promote excellence by creating an accessible global network of endocrine nurses. This network will offer advice to our colleagues from countries around the world who do not have the opportunities that we have for support.
Leading the team in developing this unique and valuable tool for adult endocrine nurses was an exciting and rewarding experience. I am delighted to see my 'vision for the future' become a reality.
Nikki Kieffer
Applications are open for the 2018 Endocrine Nurse Award until 16 June 2017.
REFERENCE
1. Kieffer V et al. 2015 Endocrine Connections 4 W1–W17.
---
---